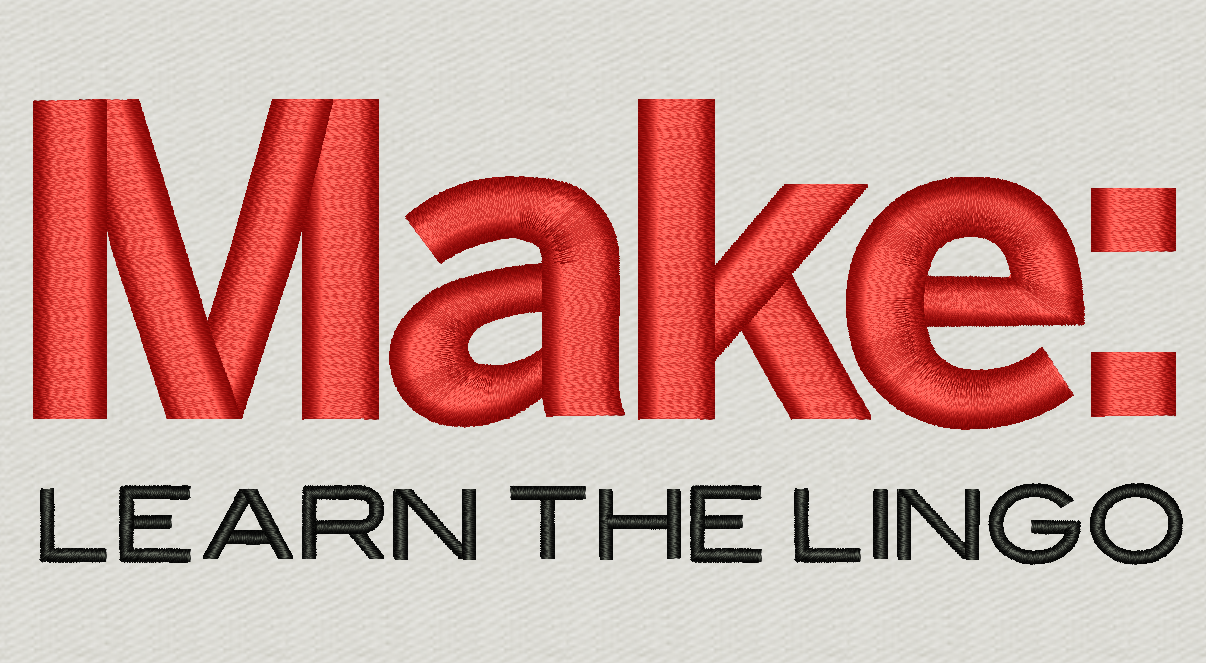 Though I attempt to keep most of my content here to posts that have their own content to spare, there are times when it's entirely worthwhile to re-blog a piece I've done elsewhere. For me, it's this embroidery glossary from the one and only Make: Magazine. In this installment of 'Learn the Lingo', maker extraordinaire Caleb Kraft asks me to define some machine embroidery jargon that new stitchers are sure to come across in their first adventures in embroidery.
Here's my opening quote from the post:
Machine embroidery can sometimes be misleading to erstwhile practitioners, because the level of automation seems to promise a hands-off experience, [while] using well-made stock designs can be relatively simple, creating your own designs actually takes not only specialized software, but requires a great deal of understanding both of the media used and of the way the machines work. Well-executed embroidery is never a scan-and-convert process; creating designs requires art to be reinterpreted for the medium, using skills that combine what starts as vector drawing with the added difficulty of understanding how fabric distorts when stitched and what can and can't be done with a needle and using that artistically to render the design in thread on a flexible surface. Mix art, math, craft, and a healthy dose of visualizing things that you can't see until the needle hits the fabric; if that blend sounds more exciting than frustrating, machine embroidery may be for you.
If you've been looking for a definitions for every term from digitizing to tension with detours through push and pull compensation, you are in luck. Check out the full post here for all the dictionary-styled fun you can handle- at the least, the post may demystify terms that old-timers like me throw around without much explanation.