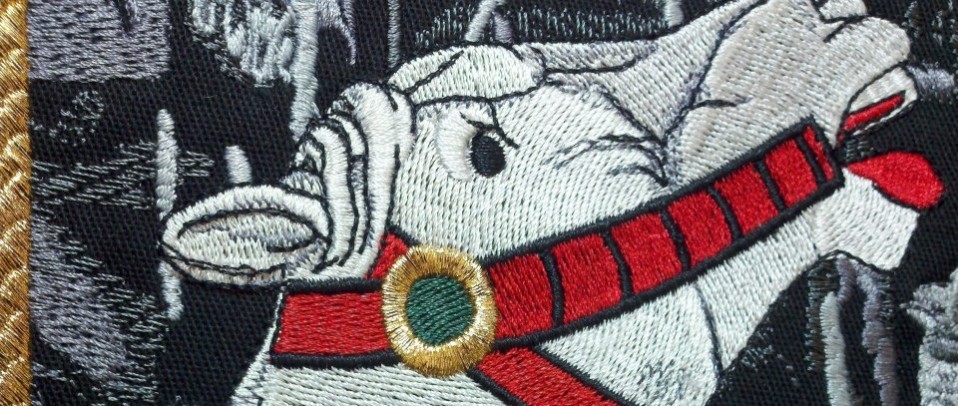 Stitches Magazine Cover – Detail
Carousel Horse Detail from Stitches Magazine January 2012 cover, digitized for embroidery from a photograph. Design, embroidery, and photo by Erich Campbell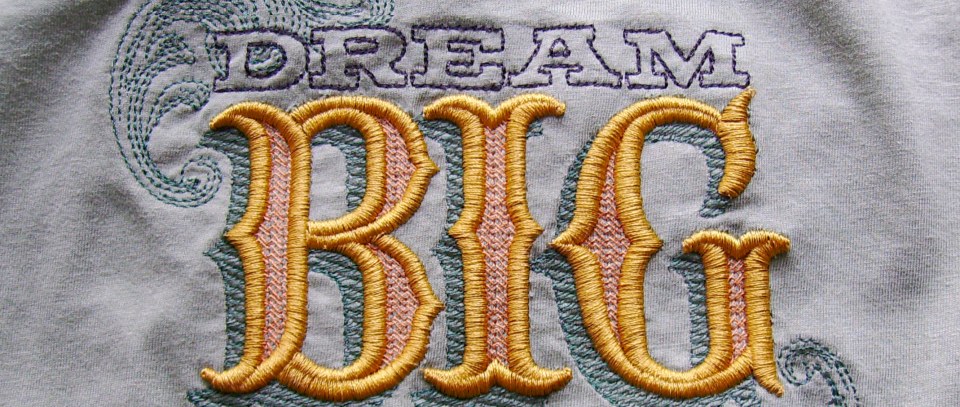 Dream Big, Stay Bold
Dream Big, Stay Bold embroidery designed, digitized, and stitched by Erich Campbell using EnMart's water-soluble Q-104 topping to create the dimensional satin stitches seen in the words 'BIG' and 'STAY BOLD'.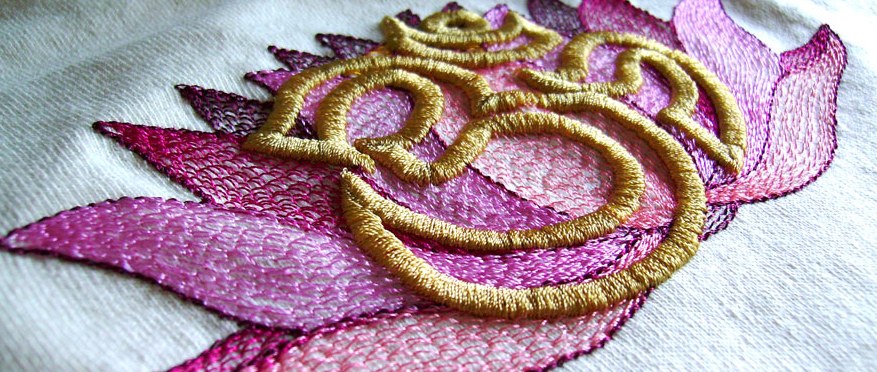 Lotus and Aum
Lotus and Aum embroidery design by Erich Campbell, here shown at an angle to reveal the dimension of the satin stitches, utilizing EnMart's Q-104 Three Dimensional embroidery topping.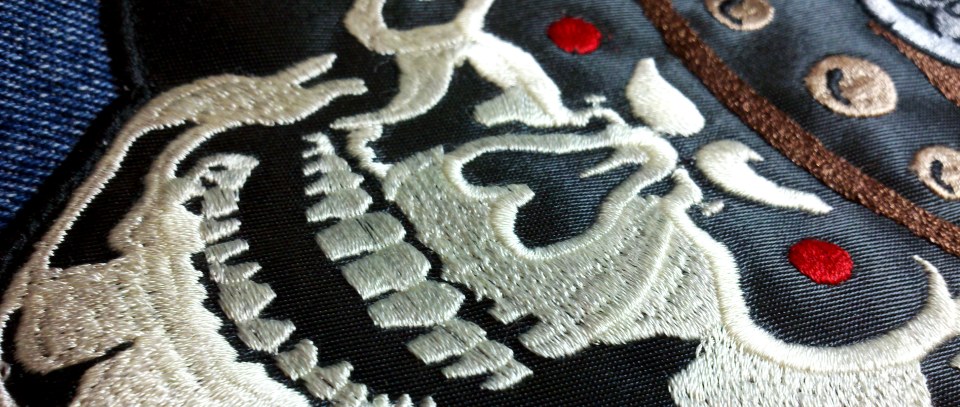 Regulators Custom Motorcycle Patches – Detail
Custom embroidered patches were created for a police motorcycle club, embroidered on custom-cut twill.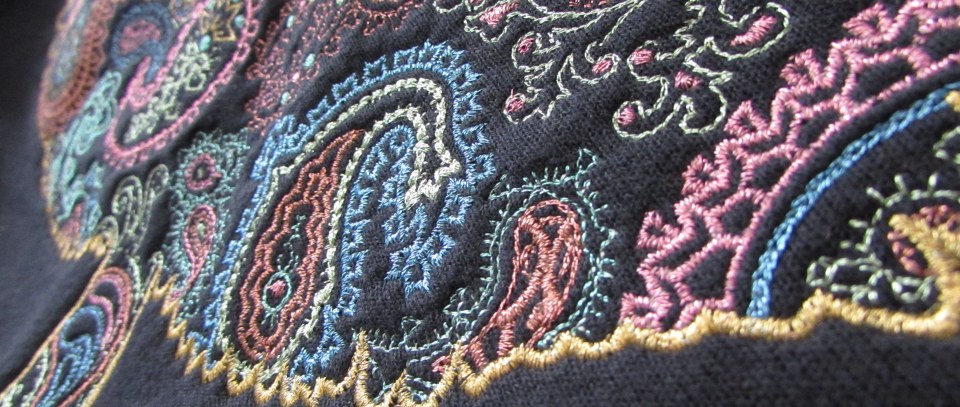 Paisley Falcon
Paisley Falcon - Metallic Embroidery - In this original design, all metallic threads were used to execute a paisley-filled falcon for a full-back placement.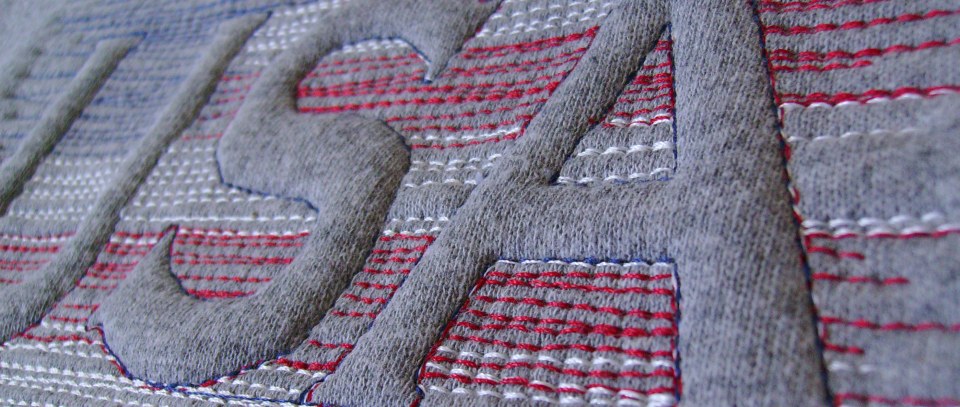 USA Trapunto
USA Trapunto Embroidery - This design has a dimensional component, with the negative areas standing out from the plane of the image. This was achieved by using a loft sweatshirt fleece an a light batting backer that was compressed under the stitched areas. This treatment is low-stitch, large size, and high-impact.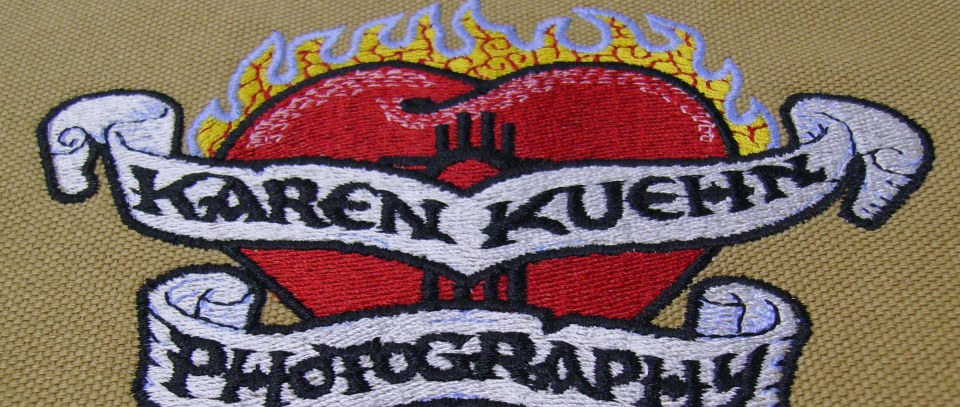 Karen Kuehn Photography Portfolio Cover
Karen Kuehn Photography Portfolio Cover - This design was rendered at a large size on canvas blanks that were later used to create a fabric binding for a printed photography portfolio.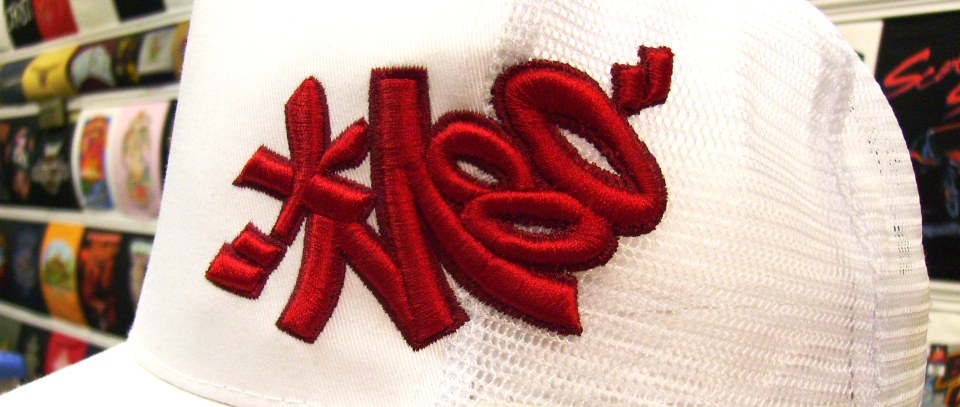 M80 3D Mesh Cap
M80 - 3 Dimensional Foam on Mesh-Back Hat. The design was stitiched in such a way to stay stable and clean-edged even stitched over the rough plastic mesh of the hat back in this interesting placement.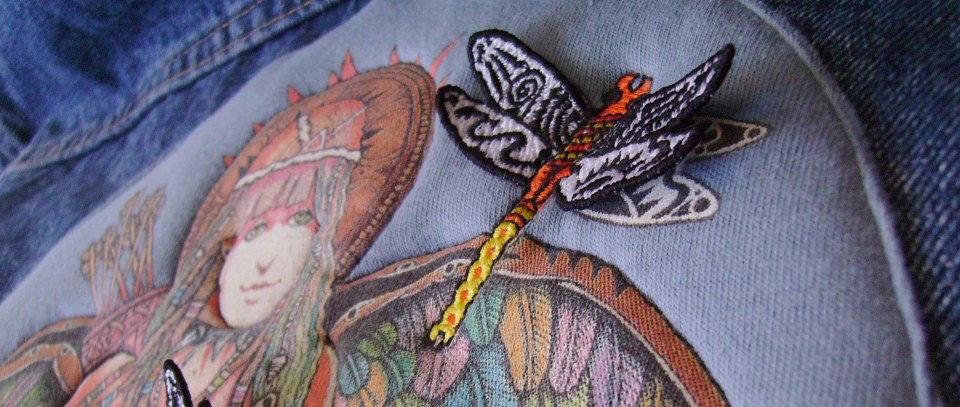 Dragonfly Goddess
The Dragonfly Goddess jacket back consists of a quilted screen-printed panel (consisting of a drawing by Newbern Taylor) embellished with free-standing lace winged dragonflies.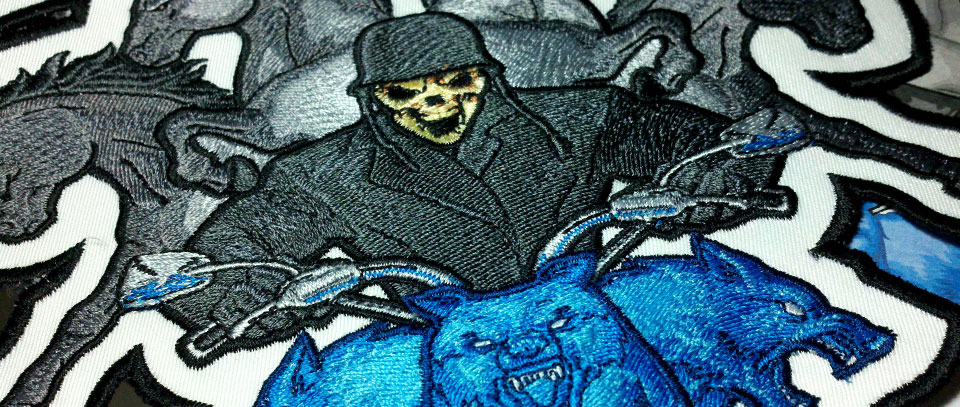 DOA Motorcycle Patch – Detail
DOA Motorcycle Patch - Detail Center of custom Motorcycle Patch created for DOA. This design featured subtle shading and an interesting symmetrical layout.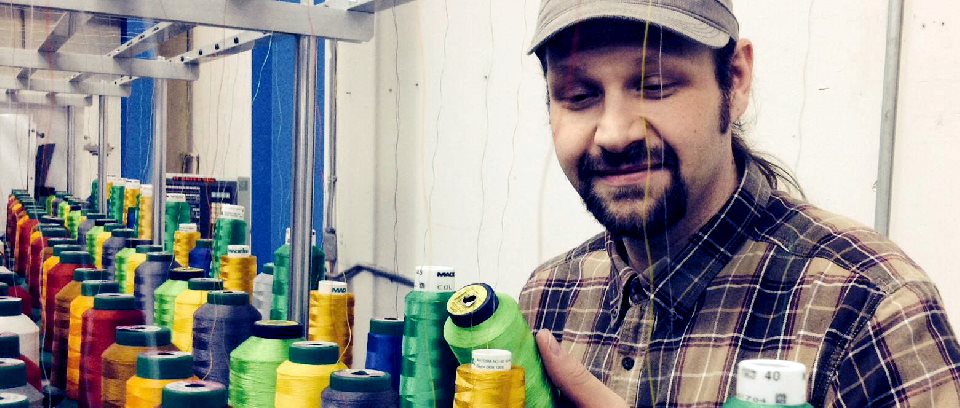 Erich Campbell, embroidery digitizer and designer, behind the scenes on the commercial embroidery production floor.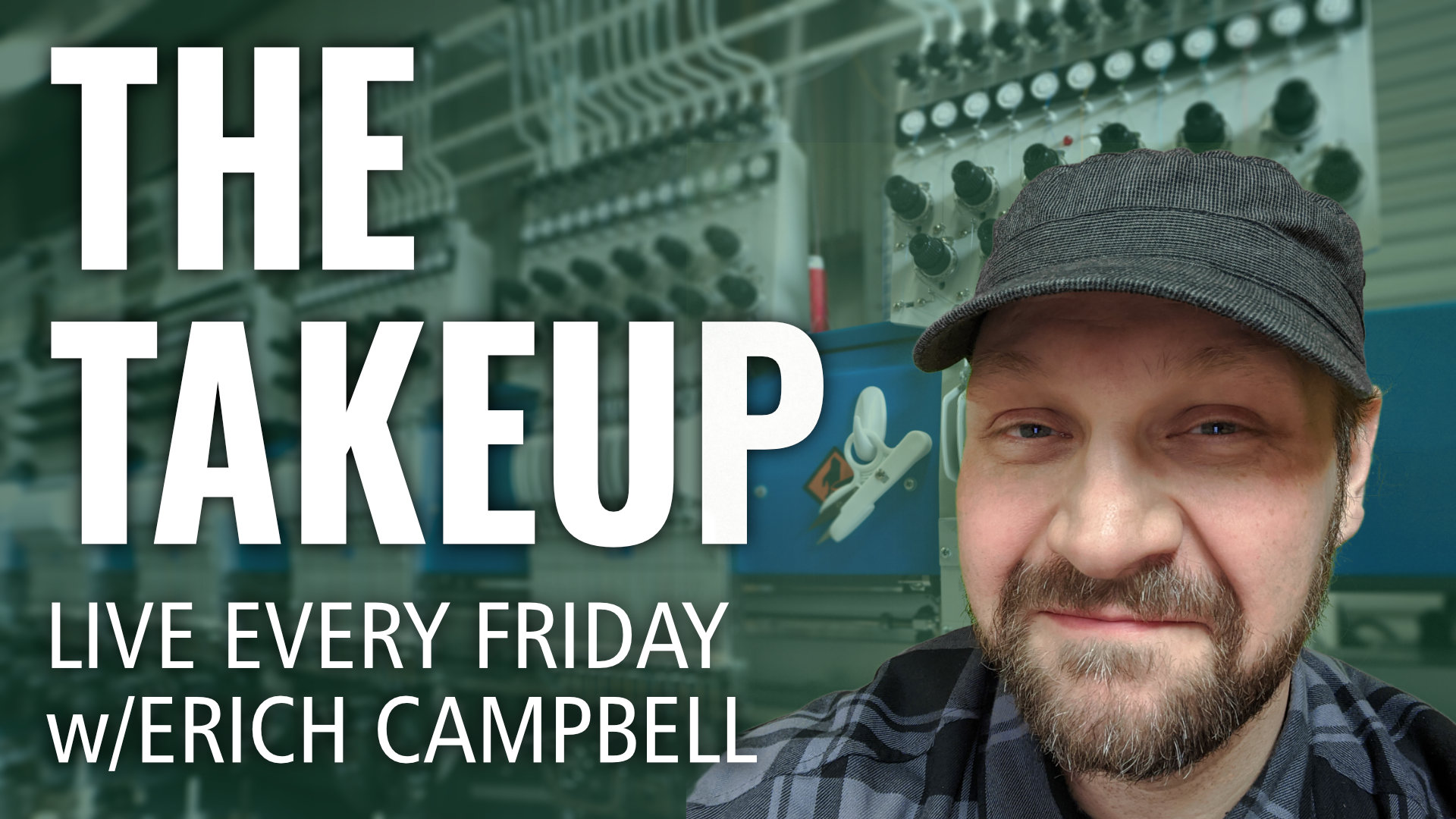 Join Erich every Friday at 2:30 PM Mountain Time for a LIVE discussion of machine embroidery, digitizing, apparel decoration, business and more on The Takeup!