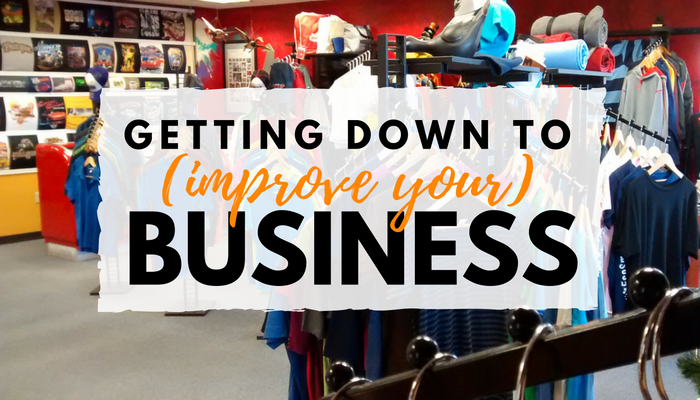 Crunch time doesn't last forever. What could you do with your 'down time' to make your business more successful?
At the end of the year, embroiderers and apparel decorators of all sorts are busily turning over production, fulfilling gift orders, personalizing everything that a needle will punch through or a print will stick to. In the midst of this bustling season, we can almost forget that the January doldrums are just over the horizon. Though it has become less so for my business, there has always been a seasonal drop-off after the holidays that at best, provides a quick breather, and at worst, has us scrambling to find things to busy ourselves and our employees.  I encourage you to plan for your down time now, even with your head buzzing with the business of this season; commit to making your 'down time' into the time you double-down on developing your business.
While we're in the stream of constant production, it can be hard to feel free enough to make time for evaluating, learning, and improving processes, but in the seasonal lull, we can beat the urge to lay back; we can proactively work on, not in, our businesses. With forethought, you can use the following techniques from my December article in Printwear Magazine to advance in the coming year:
Analyze
Walk-through your Workflow
Follow an order through your shop, making notes about each stage from contact to delivery, noting any 'friction'. Friction is anything that causes reversals in the flow of information or stalls production. You'll may find that people have circumvented uncomfortable to handle, but ultimately solvable, issues by using complicated, labor-intensive solutions. Ferret out tasks that can be done away with, automated, or delegated more appropriately. 
Concentrate heavily on flow: the way information moves from one stage of an order to another, how physical goods move from station to station, and eliminate excess 'travel'. Note the ergonomics of workstations and the time it takes employees to locate, acquire, and replace the tools and supplies used most.
Organize, Clean, Maintain, and Repair
Organize each station. Store all materials in a way that preserves them and makes them accessible. Make sure every surface that a garment might touch, whether on machines or in storage, is dust, oil, and grease free. Unclutter your shop floor: remove or store unused equipment and dead stock to make a smooth path for garments and workers travelling throughout each department. Eliminate physical choke points and ease 'traffic'. Less obstruction makes for more efficiency and fewer chances for accidents.
Time Management and Tracking
Get a rough idea of what takes up your time- with a less cluttered schedule you'll be able to use apps or simple time-sheets to start real tracking. Once you have an idea of what is filling your time, you should reassess your shop and personal growth goals before you implement schedule changes. Having them in mind makes it easier to judge which tasks are critical to your progress and which are busy work. Prune those 'busy' practices and look into how technology or tools might speed up tasks that survive the cut. 
With responsiveness as one of the most critical factors to the satisfaction of your customers, it pays to have your time in control and to know the difference between what feels urgent, and what really needs attention.
Train
Cross-Training:
Slow periods afford some time to double employees at a station and allow for practice with a little hand-holding. Shops are more robust when every position has backup and each team member can gain an understanding of the needs of coworkers. Balancing the workload when one department is rushed later in the year will come easier when you can shift workers in slow positions to help those that are overtaxed. It also increases team cohesion: it's harder to blame and easier to give them support to coworkers when you know what input each position needs to be effective.
Skill Building:
There's an immense amount of information available from blog-posts, walk-through videos, and online courses from industry experts and suppliers alike. Once you've found the right material, schedule training for employees and treat study as an important activity. Dedicated and uninterrupted time in a prepared physical space will provide the best results. Make space in your shop and in your schedule for focused study.
This training isn't limited to industry-specific education; to learn more about business, marketing, or design in a broader context, consider subscribing to a reputable site that offers more general courses. There's a world of curated, high quality materials available for the dedicated learner. Whether using free resources or paid subscriptions, there's no better investment than education; nothing can take away your increased knowledge and capacity.
Material and Technique Trials:
The slow-down offers space to conduct tests and dial in techniques your equipment can achieve but you've never tried and to test new/new-to-you materials that would increase the range of products and styles you can offer. Testing is the best way to make what you've learned a part of your trusted tool-kit. If material cost is an issue, ask for supplier samples; they will often send a small amount of product or offer an inexpensive way for you to buy a sampling kit.
Allow yourself the room to try new things, fail, and try again. Take accurate, explicit notes about variables and take reference images or even video so that you can review and replay. Not only will you be processing what you've learned, you'll be creating content you can share and you'll have decorated samples demonstrating your new capabilities  for your sales kit.
Advance
Research, Reconnect, and Reinvigorate Relationships:
It's easy for those of us who love to decorate to focus on the nuts and bolts of making great-looking garments, but we may forget to cultivate our most important asset; the relationships we build with our customers.
Get to your books, no matter how you keep them; identify consistently ordering customers with whom you can expand, good customers who have slowed in their buying, and add to the list some potential customers with whom you'd like to establish a relationship. Refresh yourself on what you've done with past customers, research both past and prospective customers online, and once you feel familiar enough to chat, make some calls or drop a line! Open yourself up to questions- offer up personal time for company representatives, ask your own questions and listen, listen, listen. Ask for feedback on your work and ask what it is you can do to make working with your company as easy and as rewarding as possible from their perspective.
Decorate samples with customers' logos and present them with a handwritten note. Make it clear that you care about what they need and that you are always working to improve their experience. Customers are delighted by unexpected demonstrations of care; even the smallest tokens of your appreciation and attention make a difference- including time tested promotional products. It's a simple way to turn buyers into your biggest fans and evangelists. 
Refuel and Recommit
Though we don't want to lose steam, you do need to let your well of willpower and creativity recharge from time to time, lest you find it dry when you need to draw out your next big idea. while you are working through your development, make sure that you've left time to just 'be'. Take breaks, enjoy the slightly less frantic pace, and make every moment count, whether on the shop floor or out to lunch. Be present, be mindful, and be ready to make the next step toward your success.
To see my entire article on this subject and to see the rest of the images as arranged by the great folks at Printwear, check out the digital edition for this month.